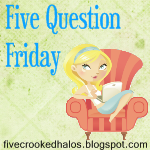 1. What
Christmas song do you loathe? I actually love Christmas songs...but the one I prefer less is probably "Chestnuts roasting on an open fire". I don't know why, it just isn't my favorite :-)
2.
Do you and your significant other cuddle at night or sleep on opposite sides of the bed? We sleep on our own sides...we both prefer different temperatures and prefer our separate sides :-)
3.
Have you ever had surgery? Nope...not looking to have surgery any time soon either!
4.
When do you typically have your holiday shopping done? I usually finish up my shopping on Christmas Eve...I'm hoping that since I've already started shopping this year (I usually start shopping the second week of December...oops) that I'll actually be finished mid December this year.
5. If money were not an issue (and you HAD to pick something), what would your ultimate luxury item be? Probably the house that I already have designed in my head...stocked with everything I could ever need (with a permanent maid LOL)