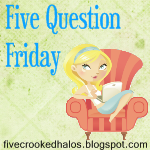 1. What is your go to comfort food or sweet? Lately...Ice Cream. For "real" food, it's always been homemade beef and noodles...
2. What is the most romantic place you've ever been to? Hmmmm, I don't know...I guess my most romantic times have just been times spent with my husband...we didn't have to be any where special.
3. What is your favorite thing about fall/Halloween? The only thing I like about Halloween is seeing my kids excited about dressing up (which reminds me...I need to pick up their costumes). But I really love Fall...I love the weather changing, the pumpkin scents, and cinnamon apple scents...but I just wish I was enjoying Fall in MN again...the color changes on the foliage was so gorgeous...we don't really get to see that in TX since by the time Fall comes around Summer has already turned everything brown!
4. How would you spend 24 hours alone? I'd play on my iPad and laptop, I'd read, I'd sleep, I'd get a massage, and I'd just relax and enjoy!!!!
5.
Does you husband bring you flowers? Are you the bring-me-flowers type of girl? My husband brings me flowers occasionally. I'm not really a "bring-me-flowers" type of girl (plus he still thinks for some reason that yellow roses are my fav...NOPE...my fav's are dark red/purple roses and tulips...maybe after another 15 years he'll figure it out.) BUT, I'd love to get flowers at work and I've been dropping hints since I have an office now but he hasn't gotten the hint yet :-)