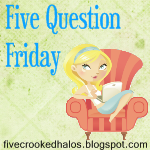 1. W
hat is your favorite summer time activity? taking the kids to the pool
2.
Do you have one laundry soap you stick to, or do you buy whatever's on sale? I prefer to use All free and clear, but if I can get a good deal on something else I'll pick it up too.
3.
What is your favorite dinner to make in the summer?
I don't have any specific summer meals but I guess that it would probably be hamburgers and hot dogs on the grill...but then, I don't make it, my husband does :-)
4.
Do you have any talents? Hmmmm, well, of course...am I gonna list them here...probably not :-)
5. If you could instantly be an expert in something, what would it be? Why? I'd like to be an expert in...men...for about 3 minutes only. Why?? Because maybe, just maybe, I'd understand my husband...but I probably wouldn't :-)