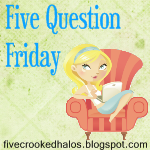 1. Tube socks, calf socks, crew, ankle, none? (From
@ThisDaddys_Blog
)
I prefer my flip flops in the summer, and slip on ballet flats in the winter but I wear ankle socks to work with my tennis shoes.
2. Was your childs (children's) name a mutual decision or was it a debate? If you don't have children, do you plan on giving your spouse a say, or do you have a name you MUST have, regardless if your other half likes it or not?! (From
@momtodh
)
Well, I came up with the kids names and my husband gave his say and then we agreed on the names I picked :-) My husband did pick the spelling of our youngest's first name and our son's middle name.
3. What is your favorite type of weather? (From
@TheSpunkyDiva
)
My favorite weather is about 80 degrees, a light wind, and a few clouds in the sky
4. If left to your own devices, what time would you wake up every day? (From Sandy at "
Pardon My Dust
")
Ummmm, NOON. Of course, I did "used to" be a night shift person so it isn't really as bad as it could be, right??? Please say you agree!!!!
5. Have you bought your cemetery plots yet? (From Pam at "
Troop Petrie
"
) No we haven't...we need to plan our wills first. Plus, this is kind of depressing so I just don't wanna....