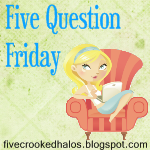 1. How long does your Christmas tree stay up? Well, it stays up until we decide to take it down. We have never had a specific day that it comes down. The latest it's been up is until mid January...
2. Do you have plans for New Year's Eve? I do!!! I'm going to go to work...sounds like fun doesn't it?????
3. Do you have any New Year's resolutions? Nope!!!!
4. How did you spend New Year's Eve when you were younger? I bugged my parents to let me stay up...
5. What was the best way you've ever spent New Year's Eve? I think I remember having a New Year's Eve party at my house for the youth group...I think, hmmmm who knows...